HUNGARIAN KASSAI RECURVE BOW BEAR 40-59# / Ungarischer Reiterbogen Bär 40-59#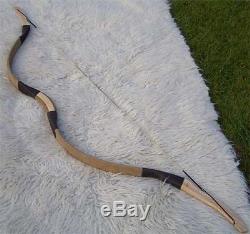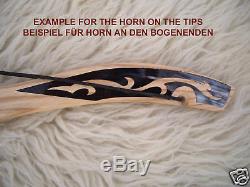 HUNGARIAN RECURVE BOW from Lajos Kassai "BEAR" I 40-59# (lbs) Brutal power and ever-lasting life. I sell the bows of the best Hungarian manufacturers only! The selection is from the deservedly world famous Kassai bows the largest. These bows will be bows for 25-30 years even by continuous use!
Market needs required the construction of a bow with real power! The aim was to retain as much as possible from the grace of the models so far but at the same time to strengthen the parts exposed to the biggest wear.
So was the bear born. It can be produced up to 110#, a strong bow of extremely hard wear. Its rustic and robust appearance has made it popular very fast. We recommend it to people respectful of traditions and hunters.
Average weight: 880 g Lenght of string: 140 cm /55,1" Length unstrung: 158 cm / 62,2" Length strung: 150 cm / 59" Draw weight: 40-59# max draw length: 32". Brown , dun , red, yellow , green , grey , black, blue.
I undertake 1 year guarantee for every bow. Extras for Kassai bows (at special request).
Horn decoration on the hilt. Horn decoration on the horns. You can see pictures about these extras - these are extra to be ordered, not part of a base bow! Please feel free to Check out my other items!
Ungarischer Kassai Reiterbogen MEDVE Der Bä r I 40 -59#. Nicht ohne Grund nennt man diesen Bogen DER BäR. Brutal kräftig und sehr robust.
Entsprechend der Marktnachfrage ist unerläßlich worden einen wirklich schußkräftigen Reiterbogen zu entwickeln. Das Ziel war, je mehr von der Graziösität bisherigen Reiterbögen zu erhalten, gleichzeitig aber sollten die meistbelastene Stellen noch zusätzlich verstärkt werden.
So ist der Bär geboren. Sogar bis 110# produzierbar, sehr starker, außerordentlich robuster Reiterbogen. Seine rustische und robuste Erscheinung machte ihn schnell populär.
Für Traditionstreuen und für Jäger empfohlen. Durchschnittliches Gewicht: 880 g Sehnelänge : 140 cm Länge ungespannt: 158 cm Länge aufgespannt: 150 cm Zugkraft:40-59# bei 30 Max. Sie dürfen Zuggewicht und Farbe auswählen! BRAUN, DUNKELBRAUN, ROT, GRÜN, BLAU, GRAU, SCHWARZ, GELB. Sie können Bilder über diese Extras sehen, diese müssen extra bestellt werden, sie sind nicht im Preis imbegriffen! Larc trasitionnel MEDVE (OURS) de Kassai Lajos. Notre objectif est de rendre connus en Europe les arcs traditionnels hongrois, Nos arcs sont. Et les accessoires aussi, sans exception, des chefs duvre artisanale des facteurs darc. La puissance brutale et le combat.
Le marché a fait ressentir un vrai besoin dun arc très puissant. Lobjectif a été de préserver le plus possible de la suplesse des modèles de jusquici et en même temps de renforcer le plus possible les parties subissant la charge. Cest en ce mode quest né l. Il peut être fabriqu même jusqà 110#-, puissant et extraordinairement résistent.
Son aspect rustique et robuste la rendu très vite connu. Nous le recommandons aux traditionnalistes et aux chasseurs. Nous commercialisons uniquement les arcs produits par les meilleurs producteurs hongrois. La gamme la plus large est assurée par les arcs Kassai, mais nous avons dans nos dépôts des arcs Grozer aussi. Ces arcs préservent toutes leurs qualités même en étant utilisés continuellement pendant 15-20 ans.
Vous choisissez la puissance du tir et la couleur du cuir de larc, aussi que les extras demandés et nous vous le livrons dans 2-3 semaines. Des extras pour les arcs Kassai.
Des ornements sur le cuir. Des ornements sculptés, des motifs taillés sur les branches. Ornements de corne sur les branches ou sur la poignée. Pour chaque arc nous accordons une année de garantie. The item "HUNGARIAN KASSAI RECURVE BOW BEAR 40-59# / Ungarischer Reiterbogen Bär 40-59#" is in sale since Monday, October 2, 2017.
This item is in the category "Sport\Weitere Sportarten\Bogenschießen\Bögen\Recurvebögen". The seller is "reiterbogen3" and is located in Österreich. This item can be shipped worldwide.
Marke: Markenlos
Artikelzustand: Neu
Herstellernummer: nicht zutreffend