RARE Herters Sitka 46 Recurve RH Vintage Collector Brazilian Rosewood 1966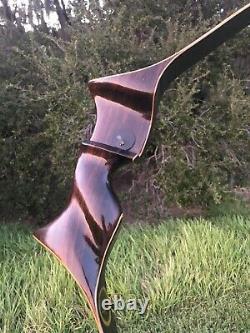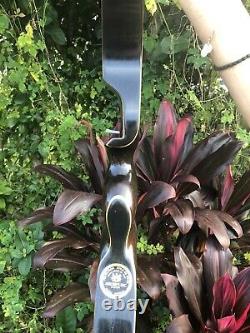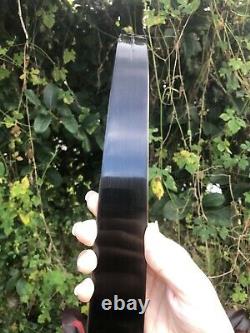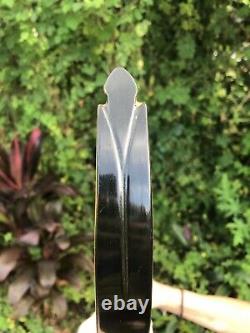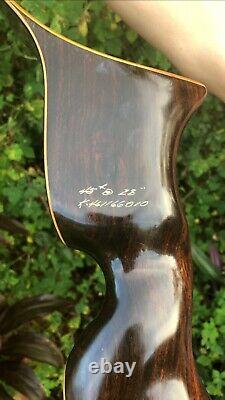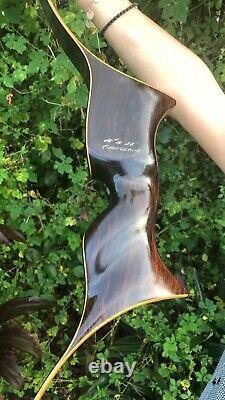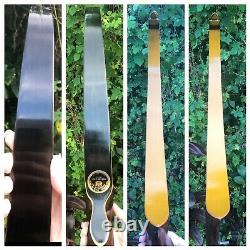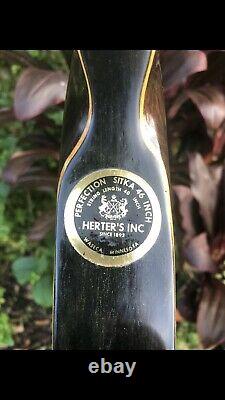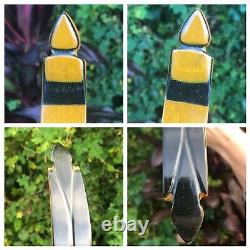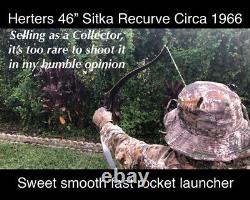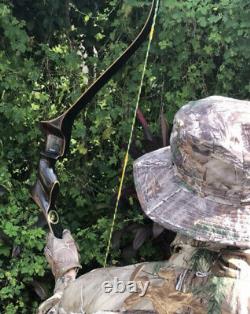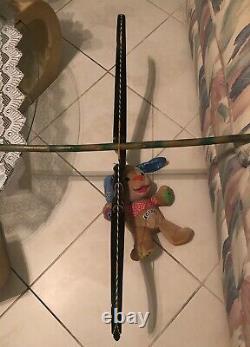 RH Sitka 46 recurve bow. Sculpted from the highest grade of beautiful rich grained BRAZILIAN ROSEWOOD. If you like bow art youll find this curvaceous velvety-smooth muscle bow much to your liking. This one of my two favorite bows that I have ever experienced.
I will do my best to describe it. Ask questions as you wish. This is one amazing collector recurve to feature in your collection, a rare gem from the 1960s golden age of traditional archery. No guarantees on that, if that might be your plan. This masterpiece bow is in great shape, especially considering it was made in 1966 and that it went hunting.
Its not new but is mighty doggone good! The first owner gave it TLC TENDER LOVING CARE, he used camo protective sleeves while hunting with it, waxed it regularly, and kept it in amazing good shape. And as Ive barely used this bow, no battle scars from me to it either. I always joked however that if they ever take our guns, this would be my go-to-war bow for how fast it gets on target for me.
This bow is featured in a Sitka online video you can look up to watch if you wish. In the video I talk about both the Herters Sitka series and Dave Windauers AWESOME SILVERTIP RECURVES. Custom made 40 Flemish twist B-50 bowstring. Herters didnt use AMO standards to measure their bows. Instead of actual length, they measured along the curves.
Thats how they got the 46 for the length in their catalog and on the round logo. Actual strung-up length is about 41 tip to tip. The finish isnt as high gloss as with some of the 1960s Herters bows. Its more of a softer lightly aged patina, from normal hand carry over time, to have apparently toned down the original high gloss some. Its still plenty smooth and lustrous.
Waxing definitely helps preserve good bows. Riser is very good shape, a couple very light very shallow impressions possibly from a bump? There is a tiny little dimple of a tiny mini-knot? Maybe in the wood, barely detectable. The cores and fiberglass are good, with no structural issues, no splits, dings, or scratches that we can see with our good eyesight.
I think the black fiberglass looks slightly age faded from the original jet black. Limbs are very straight, zero limb twist.
Bow draws smooth for me, tracks true, bowstring sets back down centered up good. Feel free to ask any questions or for additional photos. If you want to shoot it thatll be your business. Whenever I take it down from the wall to look it over and polish it, I end up wanting to shoot it again. Man is it ever fun to shoot this powerful weapon! But no can do, after 10 or so shots the 45 lb. RH draw weight flares up tendinitis in my twice-broken left arm. This 1966 Herters Sitka truly is an important piece of archery history, too valuable in my opinion to shoot.
I believe this extra rare bow should really go to a collector. A blast from the past, this uniquely designed Sitka bow is straight out of traditional archerys golden era.
It always reminds me of my fun as a kid heading into the forest with my similar short USAC bow back then. So glad that traditional bowhunting has come back today bigger than ever, thanks in large part to Traditional Bowhunter Magazine (subscribe to this soon) and Compton Traditional Bowhunter (join up, you will get to know many nice bowhunting folks). Its too bad that we can no longer get fine bows made of Brazilian Rosewood. This is the finest wood for a bow as I know.
Due to high demand worldwide, it is now an endangered tree species on CITES red list. This bow has looked mighty nice up on the wall of my bowhunter man cave. The Sitka sweeping recurve limbs on the bow look almost like a set of mounted Texas longhorns. The Herters Sitka 1960 era series bows is truly my favorite of the entire Herters lineup. Sitkas are perfectly balanced and shoot as good as they look.
I like all the Herters bow, but Sitkas are tops. This particular 46 model Sitka model is exceptionally rare (circa 1966) and in high collector demand. I shot it aerial and loved how fast it gets on target. It shoots heavy Forrester wood arrows fast, quiet and accurate.
The shorter length made this 46 series bow very popular hunting bow in the brush or when hunting from a tree stand. BTW: If you want to see our best instinctive archer of today, look up James Jean videos. Hes a nice young gentleman. This Sitkas high 9-1/4 brace height eliminates finger pinch, at least for me at my longer draw length. I shoot a modified split-finger draw.
Just before anchoring, I straighten my index finger off the string, for an easy 2-finger release. Stacy Groscup taught me this long ago as a good technique with my longer draw. Instinctive archery legend Fred Asbell included very interesting discussion about the popular 46 Herters Sitka recurve in his excellent Traditional Bowhunter magazine article a few years ago.
Our friends all describe our Sitka recurve as absolutely gorgeous. If you go for it I think youll agree. This Sitka, of extremely rare top-grade Brazilian Rosewood, is amazing to see in the outdoor light.
In the soft dawn or late afternoon it has a special deep dark chocolate tone, and in the middle of the day looks more like milk chocolate in color. I really like that about bows made from Brazilian Rosewood, especially on the hunt while were waiting on deer to show up. This bow is as well described as we know how to do. Bow comes with a new bowstringer, in case you wish to strung up.
We trad archers know how to safely properly string up a bow. Not everyone does, and is why good bows can end up twisted. If you arent experienced at stringing a bow, please seek expert help.
That being said, all serious bow collectors Ive ever met know their stuff and how to properly string up a recurve. This bow leaves here STRAIGHT & packed in a stiff tough box.
I show the excellent limb straightness, documented by good photos. It is very important to string up a recurve bow properly, always with a bow stringer, each and every time. We strive for happy buyers, please let us know of any problem or delay: We will take care of it right by you.
The item "RARE Herters Sitka 46 Recurve RH Vintage Collector Brazilian Rosewood 1966" is in sale since Thursday, December 3, 2020. This item is in the category "Sporting Goods\Outdoor Sports\Archery\Bows\Recurve". The seller is "aegeanworks" and is located in Palm Harbor, Florida. This item can be shipped to United States.
Archery Type: Bow Hunting
Draw Weight (lbs.
Dexterity: Right Hand